Description
A contemporary counter-height stool, the Logan Counter Stool is simple and elegant, and subtly adds style to your living space. The clean lines & combo of wood and metal work with any décor, from rustic to contemporary to industrial. Black metal legs support a slightly contoured SOLID ACACIA seat. Available in a walnut finish as shown, and also available in bar height.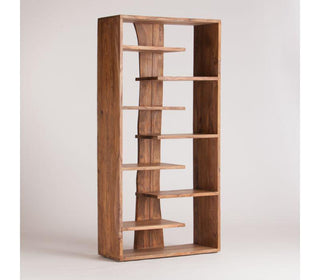 Solid hardwood furniture that is both stylish and sustainable
Rosewood & Acacia are some of the most beautiful and timeless materials in the industry. The stunning, natural grain patterns make each piece uniquely yours.
Natural wood has variations in colour & texture, meaning no two pieces will be alike.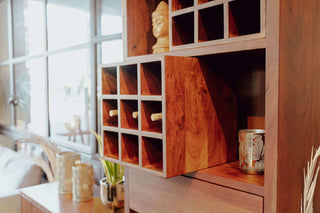 We build products to last generations
Quality construction means your furniture is designed to last, with a build that is solid and sturdy. Every product is handcrafted with the utmost care down to any metal detailing that is hand-welded by expert artisans.
We procure only the finest materials such as premium hand-stitched leather for our dining chairs. Since we only use solid hardwood & no veneers, you can be confident your piece will stand the test of time.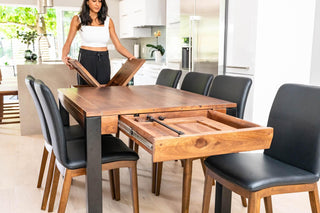 Beauty Meets Functionality
Solid wood furniture is a classic for a reason - it's beautiful, timeless, and can easily fit into any style of home. Our furniture is designed to be not only strong and durable, but also to have clever features that make your everyday life a little easier.
"I highly recommend Rosewood to folks looking for a sophisticated, yet down to earth and spiritual vibe in their home. I am very happy with all of our purchases and it is a delight to come home to well made and simply elegant furnishings."
– Emmy C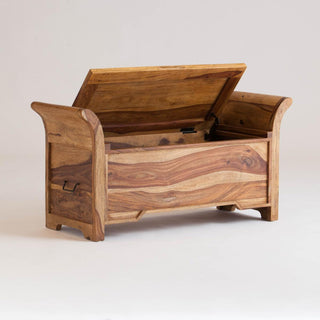 "Everything about the furniture screams quality that will last, and look great for a lifetime."
– Endre G