Description
Double your closet space with the Acacia Storage Bed featuring a 16" deep storage area beneath the mattress. The Italian mechanism with powerful pistons offers easy lift access to your large storage compartment. An added bonus is the second position that allows for tucking in sheets and making the bed quickly and easily. Pick from the Reve or Ocean Headboard to finish off your custom bed in style. 

Dimensions
Queen
W: 65" L: 88" H: 42"
King
W: 81" L: 88" H: 42"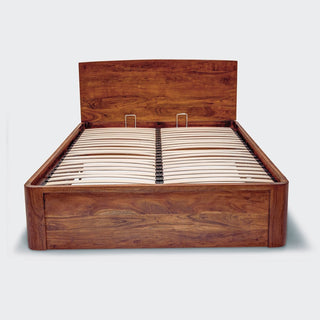 Quality Hardwood
We pride ourselves on our use of high-quality, sustainable materials. Acacia is a solid tropical hardwood known for its strength, distinctive grain patterns & rich colouring.
Your custom bed will be like no other because natural wood has beautiful variations in colour and texture.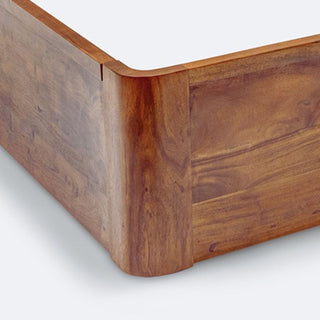 Solid Construction
Quality craftsmanship is a process. It takes patience, focus, and attentionto detail. Our timeless designs are handcrafted to last generations.
We build our furniture with the utmost care and use the finest raw materials. When it comes to furniture, Acacia is a top choice for its strong and sturdy build, as well as its effortlessly stunning appearance.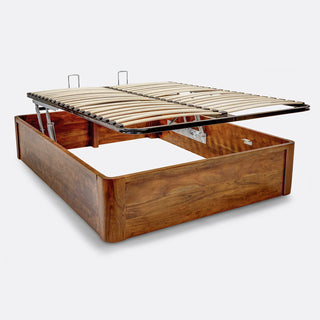 Designed with you in mind
We create designs that balance beauty and functionality down to the last detail.
Whether that means providing you a way to make your bed faster without bending down, or creating a storage space large enough for your extra suitcases, winter jackets or patio cushions, we have your everyday lifestyle in mind.
Bought a beautiful bed frame from Rosewood and absolutely smitten with it. The service was top notch, delivery and installation was smooth. Bed is excellent quality and I am very pleased.
- Genevieve Coleman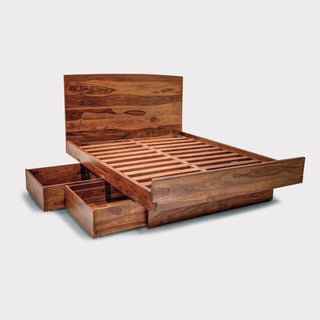 The warm wood and intricate carvings in the bed frame have really elevated my bedroom. And the ample storage built into the bed is just what everyone needs in Vancouver. Excellent service, beautiful products. I will certainly be a repeat customer.
– Arena Sidhu