Description
Looking for the perfect console table for your entryway? Or maybe a console to put behind your sofa to complete the look? Create your custom console table, handcrafted from solid tropical Rosewood. The beautiful, unique grain pattern of Rosewood will ensure your table stands out as one of a kind. Choose from three different size tops. Pick from two wood finishes and select a live or tapered edge to suit your style. Complete the look with your choice of hand-welded metal legs.
FEATURES
Built from solid Rosewood that's sustainably grown in India.
Each piece of wood will contain knots & grain patterns that are characteristic of natural wood making every piece unique 
Water based stain & top coat
Steel legs available in dark gun-metal grey as pictured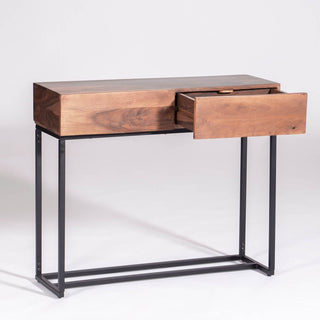 Quality Hardwood
The beauty of natural wood cannot be denied. It has a unique look that can't be replicated by man-made materials.
Rosewood is a type of solid tropical hardwood that is known for its striking grain patterns & durability. Our Natural Rosewood finish is a light walnut colour and our Viva finish is a golden oak colour.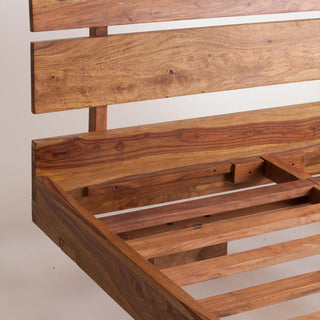 Solid Construction
Quality craftsmanship is a process. It takes patience, focus, and attention to detail. Our timeless designs are handcrafted to last generations.
We build our furniture with the utmost care and use the finest raw materials. Solid tropical hardwood and hand-welded steel legs mean your console table is made to last a lifetime.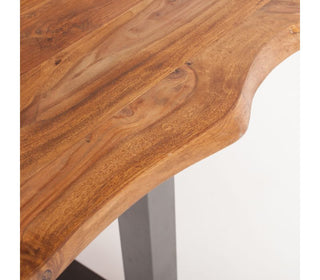 Uniquely yours
Whether you choose a live or tapered edge, the natural variations in colour & texture of the natural Rosewood means that your piece will be like no other. This makes each console table a one-of-a-kind piece of furniture.
Not only do they have beautiful pieces, but they also have the kindest team! They were super considerate and understanding and went out of their way to ensure I was happy.
- Alysha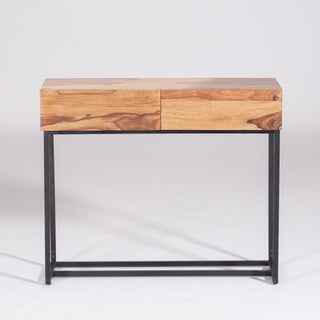 We have two gorgeous pieces of Rosewood's furniture. They will be inheritance pieces for certain. In all our dealings - inquiries about pieces and prices - they have been responsive and informative, getting back to us promptly.
– Toni Crow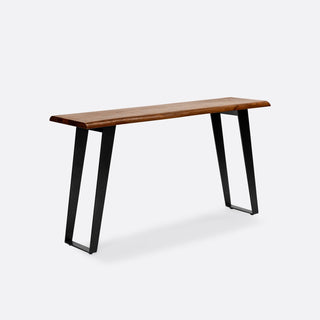 If you are looking for timeless design, exceptional quality and craftsmanship, competitive pricing, and professional people who understand the customer's needs, then look no further. You will love and enjoy these items for the rest of your life and so will future generations.
– Antony